Armors are your primary damage-reducing equipment in Nodiatis. Each piece of armor has associated with it some degree of protection, known as armor class (AC); higher AC reduces your hitpoint loss when you are attacked. Most armor pieces also confer some kind of stat bonus or other effect.

All armor pieces come in sets. Each set is comprised of a helmet, a chestpiece, sleeve, leggings and shield, and are coordinated both aesthetically and by name. Pieces in a set all have the same level requirement in Suiting, or in the case of shields, Blocking. Wearing a complete set does not confer any additional bonuses to those given by individual pieces.

Armor pieces are dropped by defeated monsters, purchased from the armory found in each town, or synthesized by crafters. If paid players sell armor to a shop, that shop may also offer that armor for sale.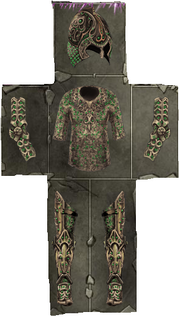 Ad blocker interference detected!
Wikia is a free-to-use site that makes money from advertising. We have a modified experience for viewers using ad blockers

Wikia is not accessible if you've made further modifications. Remove the custom ad blocker rule(s) and the page will load as expected.