Hunting Overview
Edit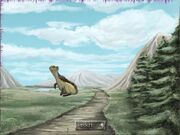 Hunting is a
Resourcefulness
skill available at the beginning of the game, and allows you to obtain animal carcasses in
zones
that allow hunting. To hunt you need to equip a
bow
AND an
arrow
; no
quiver
is needed. After battle, a bow icon will appear at the bottom of the screen. Click on the icon to begin the Hunting minigame. In this game you must aim with the mouse at the creature (if and when it appears) and shoot with the spacebar. You can only shoot once per minigame, so if you miss then you won't catch anything! To increase your Hunting skill you can also buy a
Skinning Blade
and use it on a carcass in your inventory to obtain a skin. The higher your hunting level and the zone level are, the higher the level prey you can find. With the
Leatherworking
skill, you can use the skin and a
Hide Stretcher
to make
leather
afterwards. If you let the carcass decay overnight you will end up with a bone.


Note: If you are using a staff, you cannot equip a bow at the same time. In order to hunt as a caster, you must manually switch out your staff for a bow at the end of the battle, or use another inventory set that has a bow. Then when you come out of battle, you will be able to see the bow icon at the bottom of the screen.


Items from Hunting
Edit
Skin - skinned from carcass
Bone - carcass left to decay at daily server reload

Tier
Hunting
Skill
Carcass
Skin
Bone
1
0
Mongoose
Mongoose Skin
Mongoose Leg Bone
2
3
Quadhorn
Quadhorn Skin
Quadhorn Antlers
3
6
Bison
Bison Hide
Bison Hoof
4
10
Woodland Critter
Critter Skin
Critter Leg Bone
5
13
Roo Pup
Roo Pelt
Roo Tail Skeleton
6
17
Swamp Elk
Swamp Elk Hide
Swamp Elk Antlers
7
20
Elder Turkey
Turkey Coat
Elder Turkey Bones
8
24
Bluebeak Penguin
Penguin Skin
Penguin Bones
9
27
Stag
Stag Hide
Stag Antler
10
30
Ostosaur
Ostosaur Hide
Ostosaur Claw
11
34
Bunny Darko
Bunny Skin
Bunny Bones
12
38
Mulebok
Mulebok Hide
Mulebok Skull
13
41
Crescent Top
Crescent Top Coat
Crescent Top Wing Bones
14
44
Fenelihorn
Fenelihorn Hide
Fenelihorn Antlers
15
48
Prairie Hare
Prairie Hare Skin
Prairie Hare Bones
16
51
Female Peacock
Peacock Coat
Female Peacock Beak
17
55
Desert Camel
Desert Camel Hide
Desert Camel Bones
18
58
Warpig
Warpig Skin
Warpig Skull
19
61
Giant Coonrat
Giant Coonrat Pelt
Giant Coonrat Skull
20
65
Striped Billy
Striped Billy Hide
Striped Billy Bone
21
68
Night Leaper
Night Leaper Pelt
Night Leaper Femur
22
72
Great Eland
Great Eland Skin
Great Eland Skull
23
75
Blesbok
Blesbok Skin
Blesbok Horns
24
79
Spotted Tapier
Spotted Tapier Skin
Spotted Tapier Leg Bone
25
82
Clawhorn
Clawhorn Skin
Clawhorn Skull
26
86
Sageboar
Sageboar Skin
Sageboar Bone
27
89
Elder Kudu
Elder Kudu Hide
Elder Kudu Horn
28
92
Infernal
Infernal Pelt
Infernal Tail Skeletons
29
96
Behemoth
Behemoth Hide
Behemoth Skull
30
100
Pleskorus
Pleskorus Hide
Pleskorn Tusk
Ad blocker interference detected!
Wikia is a free-to-use site that makes money from advertising. We have a modified experience for viewers using ad blockers

Wikia is not accessible if you've made further modifications. Remove the custom ad blocker rule(s) and the page will load as expected.