The Orc Camp is a monster base in the far north of these lands, requiring an extensive trek north from the South Dread Mountains near the Halcyon Rapids through the Petrified Forest. By the time first-time visitors to the Orc Camp usually come here (around level 15-20 for most), this is the furthest away from a town that the player has been. Gate and recall potions are very strongly recommended!
Orc Camp Statistics
Edit
Suggested Level: 20+
Minimum Level to Enter: 12
Required Travel Gear to Traverse: Mountaineering Boots

Number of squares in Orc Camp: 22
none
Magic used by monsters/boss in zone: Life Magic

Trophy Percentage: 50% combat, 50% spirit

Monsters and Trophies:
(Note: Trophies listed first for each monster are required by the Seer's Collection Quests)

Boss:
Legionary Orc (Level 21)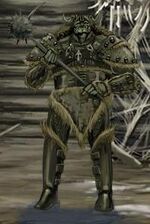 Resources
Edit
Ad blocker interference detected!
Wikia is a free-to-use site that makes money from advertising. We have a modified experience for viewers using ad blockers

Wikia is not accessible if you've made further modifications. Remove the custom ad blocker rule(s) and the page will load as expected.